Guinea Fowl Hatching Eggs
Our Guinea Fowl Hatching Eggs Guarantee
We assure that you will receive fertile, fresh guinea fowl hatching eggs, intact and in good condition. These eggs are carefully packaged for shipping to avoid breakage and cracking. If, however, you receive eggs that are not intact, contact us immediately. We insure our egg shipments and want to be sure that you get exactly what you've ordered, in the best condition.
Because circumstances during and after shipment are out of our control, we cannot guarantee hatchability. Under ideal conditions, hatch rates are 85-90%, but these eggs may endure temperatures that are not conducive to hatching, and they may be bounced around or dropped during shipping. Due to these variables, you can expect a hatch rate that's slightly less than standard. Again, we are unable to guarantee hatchability.
Order Your Guinea Fowl Hatching Eggs Today
Any day is a good day to experience the fun and entertainment that come with hatching your very own guinea keets. Our guinea fowl hatching eggs are the same eggs we hatch at Fifth Day Farm, so you can be sure you're getting the very best eggs and guinea fowl available.
These fertilized eggs are shipped via USPS, and all order quantities are by the dozen. Simply tell us how many dozen guinea fowl hatching eggs you'd like, choose your preferred ship date, and then look for your shipping confirmation.
Not sure you want to hatch your own guinea keets? But you definitely want to raise guinea fowl? Then have a look at our day-old French guinea fowl keets for sale. These baby guineas will be shipped directly from the hatchery to you.
Hatching Guinea fowl eggs naturally.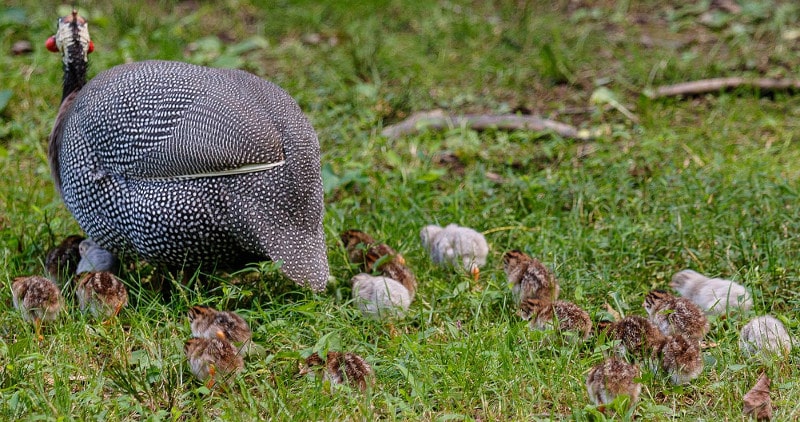 Natural hatching of Guinea fowl requires hatching eggs with a broody chicken, turkey or Guinea fowl itself. These are in order of desirability, the chicken is best, follow by a turkey hen and then the Guinea mother herself. Then you need about 4 weeks to incubate under the bird. Guinea mothers are unpredictable and quite defensive. Below: A mother hen with Guinea keets.
Raising Guineas from fertile eggs or with a hen is a natural popular method for starting your first guinea fowl flock. There is little difference to raising chickens although some of the practices vary a little.
Where to buy guinea fowl hatching eggs – Our for sale page or How to buy your guinea fowl.
Some sage advice form the past:
Lewis Wright in The Practical Poultry Keeper said in 1867: "To commence breeding Guinea-fowls, it is needful to procure some eggs and set them under a common hen."
They knew back then the best way to hatch guinea fowl eggs and the advice hasn't changed in 140 years.
Hatching fertile Guinea fowl eggs with a broody chicken:
Letting nature take its course and allowing a hen to incubate and hatch fertile Guinea eggs is the best method.
If allowed to roam, the Guinea hen will likely make her own nest on the ground and somewhere where you can not see it leaving her vulnerable to predation. You also can not move a guinea nest, they will just abandon it. This is why the chicken or turkey is a much better choice.
Silkies are a good choice to sit on your fertile Guinea fowl eggs as they make excellent and patient mothers.
Dust the mother and the nest with Diatomaceous Earth to keep parasites down.